Headquarters- Valencia Sud
Partida Xirivelleta, s/n 46014 Valencia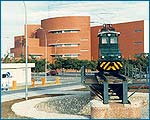 The Central Office building is located at the operating centre of Valencia Sud and houses all the management offices of the company?s departments.
The Control Office is located on the ground floor of the building and controls train traffic, all the network installations and the Metrovalencia security systems through state-of-the-art systems.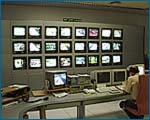 The Control Office's Security Centre has a panel of CCTV (Closed Circuit Television) by which it monitors all the Metro stations and other areas of particular interest.
This module, which houses the central alarm system for alerting robberies, intrusions and fire, is equipped with permanent communication systems via radio, telephone or data transmission with the Emergency Control Office of Civil Protection.
The Line 1 train workshop is also located at the Valencia South centre of operations.
Machado Workshops
Avda. Hermanos Machado, s/n 46019 Valencia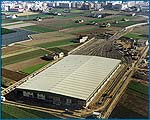 The old Valencia North workshops on Calle Maximiliano were dismantled on the occasion of the inauguration of the Line 4 tramline, resulting in the need to open new installations closer to Line 3 to serve as a depot and workshop for that line.
This facility has a total covered area of 12,000 m2 and went into service in 1994. It currently carries out repairs and maintenance work on the 3900-series trains which service Lines 3 and 5 of the Valencia Metro.
Naranjos Workshops
C/ Ingeniero Fausto Elio, s/n 46011 Valencia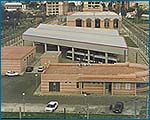 The Naranjos depot and workshop both accommodate and carry out repairs and maintenance work to the Line 4 and Line 6 trams.
They are located in the vicinity of Avenida de los Naranjos next to the continuation of Calle Serrería, along which the tramline access runs.